Programmable Automation I
array(6) { ["modal_title"]=> string(11) "Inscripció" ["content"]=> string(0) "" ["cim_form"]=> array(2) { [0]=> array(1) { ["cf7_list_forms"]=> string(3) "851" } [1]=> array(1) { ["cf7_list_forms"]=> string(5) "18090" } } ["button_text"]=> string(11) "Inscripció" ["modal_id"]=> string(7) "testing" ["modal_classes"]=> string(11) "information" }
Inscripció
Tuition fee
100% subsidized
Dates
From 23/2/24 to 19/4/24
Opening hours
Fridays from 18:00 to 21:00 and Saturdays from 10:00 to 13:00
Location
Llorens i Artigas, 12 – 08028 BCN
General
Programming and maintenance of a programmable logic controller.
To understand the fundamental concepts in automatism, the structure of the automata and its operation.
Inspection of automata, diagnosis and repair of breakdowns.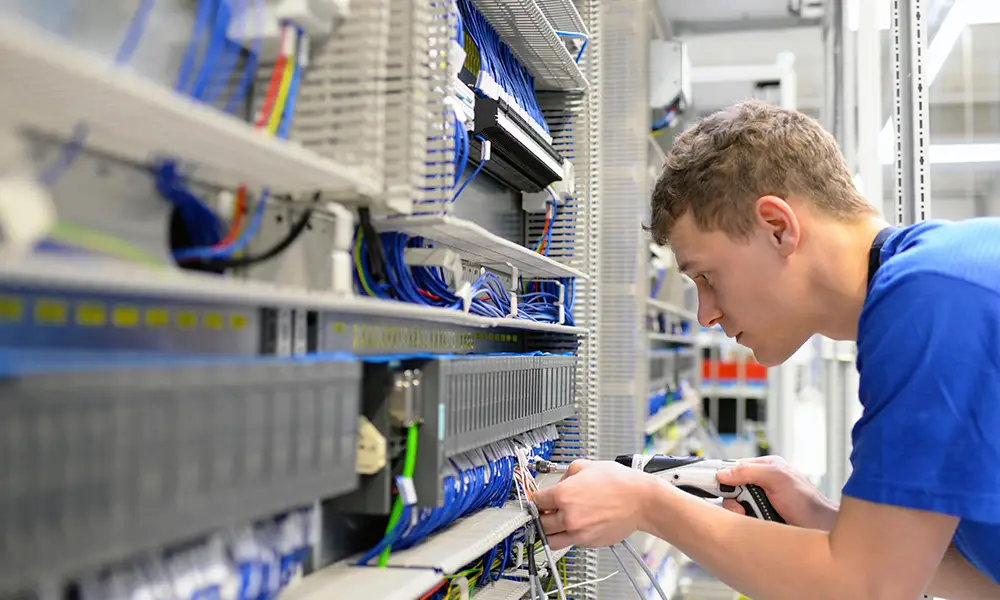 Transition from hardwired logic to programmed logic.
Parts and operation of a programmable controller.
To know the basic structure, components and operation of a programmable controller.
Discover the possibilities of programmable logic controllers.
Programming concepts.
Writing a program.
Introduction to the programming tool (CX-programmer).
Forms of representation of a program.
Program structure.
Programming objects.
Basic operations.
Mounting.
Address.
Basic instructions.
Instructions for enclave.
Sequence of operations and time control.
Counters.
Comparison instructions.
Sensors and sensors.
Introduction to electro-pneumatics.
Additional information
At the end of the course, a certificate of completion will be issued.
Course subsidized by the Consorci de la Formació Continua de Catalunya.
To register you must fill in the form that you will find in the "registration" button and attach the following documentation:
Complete and attach Annex 1 to the pre-registration form.
Photocopy of valid ID card.
Curriculum Vitae.
Photocopy of the last payroll in its entirety showing the following information: Social Security No. of the worker, Social Security No. of the company and CIF of the company (if you are in active employment).
Photocopy of the last receipt of self-employed (only if you are self-employed).
Photocopy of the updated DARDO (document of registration of job application to the Public Employment Service of Catalonia) (only if you are unemployed).
Photocopy of any document showing your Social Security affiliation number (only if you are unemployed).
Salaried female workers who work in private companies or public entities not included in the scope of application of the training agreements of public administrations and who pay Social Security contributions for Vocational Training.
Discontinuous permanent workers in periods of non-employment, people who become unemployed when they are in the training period or people under employment regulation in their periods of work suspension.
Unemployed female workers (limited places for all schemes per call).
Special scheme for self-employed persons.
Women workers in ERTO situations.